Please note that our studio is modular so there are slightly different rates for different areas. It's also worth bearing in mind that often the most cost effective thing a band can do is book the whole big studio, as you can all record at the same time, getting a more energetic and musical recording in a fraction of the time than if you layered up instrument by instrument in one of our smaller studios (e.g. if you are spending twice the rate but get a better result in a third of the time, then it's worked out cheaper and been totally worth it).
You might want to, say, book the Full North Studio for, say, one or two days of recording (tracking) then book the smaller West Studio for, say, a day of vocal overdubs and three days of mixing.
If you've recorded with us before, hopefully you have a rough idea of how long things take (and will know there is always variation). If you haven't recorded your music at all before, we might be an expensive way to acquaint yourself with the recording process, and you may like to consider a smaller studio!
Corporate voice recordings that are reads of less than a page (and often more than a page) are usually done within the hour minimum charge. For a larger read, feel free to email it to us if you would like our thoughts/estimate.
Confused about the "West Studio/North Studio" thing? There's a map below!
Please note that setup and soundcheck occurs within the time you book (but it's also part of the fun!) so allow the following:
Setting up a vocal mic and headphone feed: a few minutes, maybe more if there are backings/effects to load
Mic'ing amps and most instruments: a few minutes each
Mic'ing drums: allow at least an hour
Full band setup: We like to allow a couple of hours from when you walk in the door to when you're recording the first song. But remember, once the mic's are up and your headphone mixes are all perfect… recording each song usually goes really quickly. Some bands track a whole album in one day (then get onto mixing the next day etc), while other bands might track an album over a couple of weeks… everyone's different.
Discounts
We are musicians, we're proud of the talent in Ōtautahi Christchurch and we particularly want to be a part of helping creativity and original music to be easier to make. Woah that was a clumsy sentence but you get the gist. To that end we're really happy to offer a 20% "indie discount" to any of the below rates if you fit the category of "independent original musician" (or if you are a charity, we will come to the party for you too).
The (smaller) West Studio
Includes audio engineer, the main control room, the vocal booth, the instrument booth, and the studio's set of mics and recording equipment. Generally perfect for voiceovers, vocal recording, single (or double) instrument overdubbing and mixing and editing.
Per hour (e.g. short spoken word or vocal overdub recording): $180+GST
Per half day (4 hours) (e.g. long spoken word or recording/editing vocals on a few tracks): $540+GST
Per full day (8-9 hours): $800+GST
If you're an audio engineer and want to enquire about dry hiring, please drop us a line.
The (larger) North Studio
Includes audio engineer, the main control room, the big recording room and three isolated booths, and the studio's set of mics and recording equipment. Generally perfect for bands. You may wish to book time in the North Studio for tracking then time in the West Studio for overdubbing, editing and mixing.
Per hour: Generally not available by the hour
Per half day (4 hours) (e.g. pop in to lay down a few drum tracks): $840+GST
Per full day (8-9 hours): $1300+GST
Per week (5 days): $4500+GST
The Big Room only
Particularly perfect for filming and photography. (For some larger filming productions you might want to consider the whole North Studio to have access to the various spaces).
Per hour: $75
Per half day (4 hours): $300+GST
Per full day (8-9 hours): $500+GST
Per week (5-6 days): $2500+GST

Extras
The piano (per day): $50+GST (e.g. 1 hour = $50, 1 day = $50, 2 days = $100).
Piano tune (optional): $95+GST (recommended for solo piano recordings)
Per full day (8-9 hours): $500+GST
Video
We love to rent the big room to other video companies (see rates above). We do a limited amount of web video production ourselves, with videos starting at $2000+GST.
Live Recording
You may have heard we open our bar and host some awesome original music, comedy and theatre in the evenings here! If you're an original artist with a track record and want to see if you'd fit in our programme, hit up Charlotte.
What are the North and West Studios?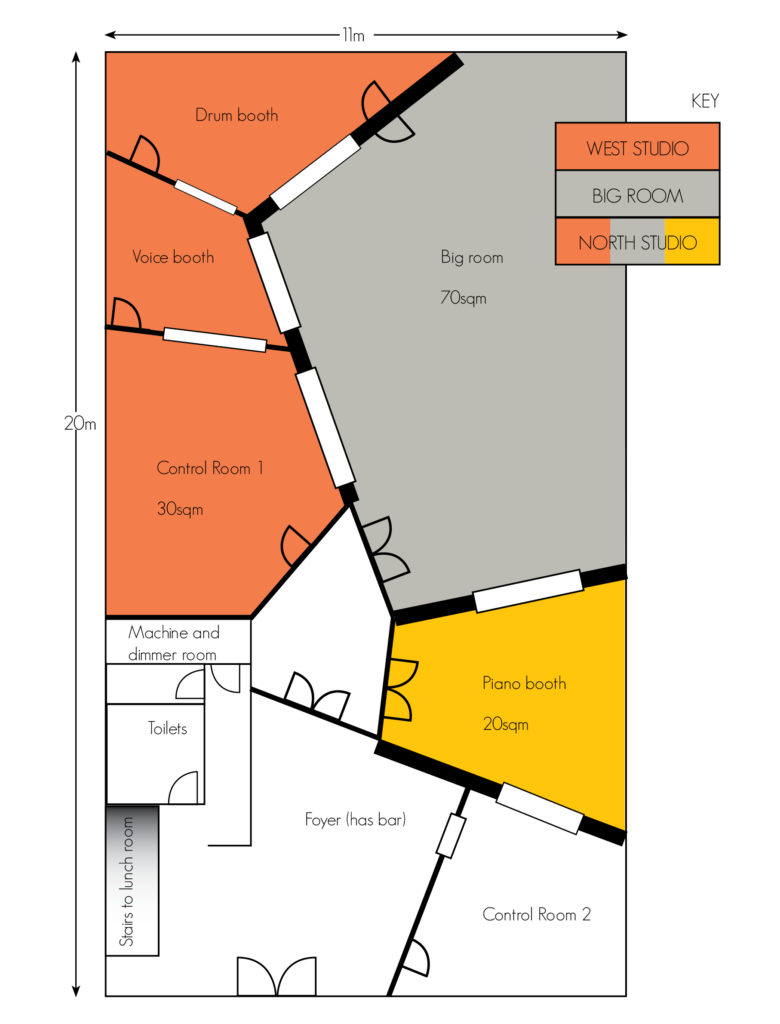 OK! Ready to book? Get in touch 🙂